About Us
ABOUT THE BRAND
MAX+min has carved out its own niche space in the marketplace, satisfying the appetite of lovers of minimalist fashion by keeping MAXIMUM attention to detail. This includes the use of high quality materials like the staple gold bar featured on our "EMORY" model to define our standard.
MAX+min's ethos is not of the moment, but of sustainable lasting product and design that becomes trans-seasonal. This is our evergreen approach to the fashion industry. We are minimalism redefined. 
ABOUT THE DESIGNER
Born in Ohio, currently residing in New York City, the brand's designer Tiarra Smallwood created MAX+min in 2018. After a decade of designing for large corporate brands Tiarra felt compelled to make her own mark in the fashion industry by removing herself from the limitations of designing other's vision. Feeling that the market lacked what she was looking for as a customer, she wanted to fill that void. Through her love of strong structural shapes and gold jewelry, combined with her desire to remove the stigma that Black owned brands are not luxury, MAX+min was born.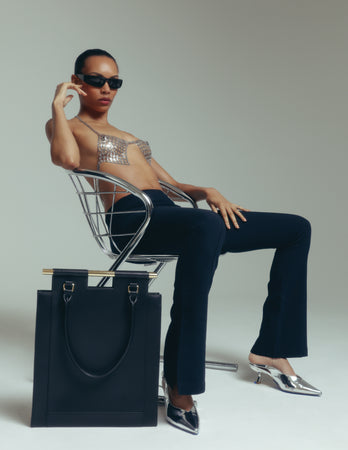 Follow us